Roast Beef with Langhe Hazelnuts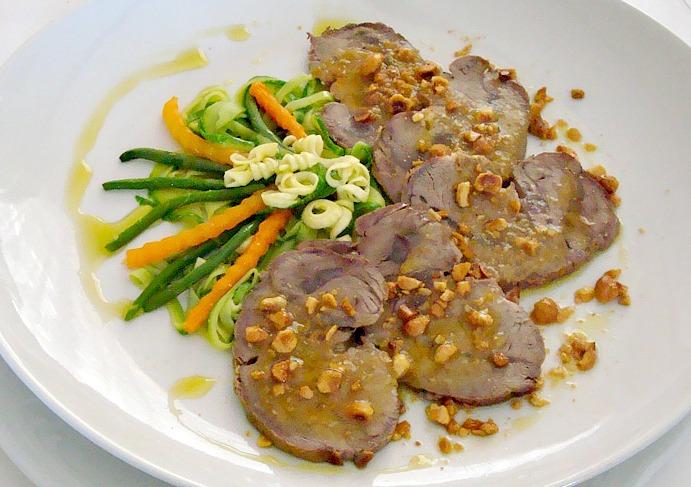 (serving 6)
Ingredients
carrots
1, finely chopped
celery
1 stick, finely chopped
extra virgin olive oil
2 tbs
hazelnuts
15, possibly a Tonda Gentile delle Langhe, shelled and toasted in the oven
flour
1 tsp, lightly toasted by heating it in a non-stick pan
Instructions
Toast the hazelnuts, crumble them and set aside. Tie the meat so that the piece holds its shape. Place it in a roasting tin with the mirepoix (chopped onion, celery and carrots) and the olive oil. Season it to taste with salt and pepper and place it in a pre-heated oven at 200 C°. After 20 minutes reduce the heat to 160 C° and keep roasting the meat, consider 30 minutes per kilo if you like it rare or 40 per kilo if you like it medium.
When the meat is done, remove it from the tin and let it stand for 10 minutes before carving. In the meantime, spoon the tin drippings and the vegetables into a sauce pan, heat over a gentle fire, and as soon as they start simmering add the hazelnuts and the flour, stirring to avoid lumps. Finally, add the butter and the Marsala, stir well and cook until the mixture is reduced to a thick sauce.
Carve the roast and serve two slices per person with the hazelnut sauce and a sage flavoured potato purè.