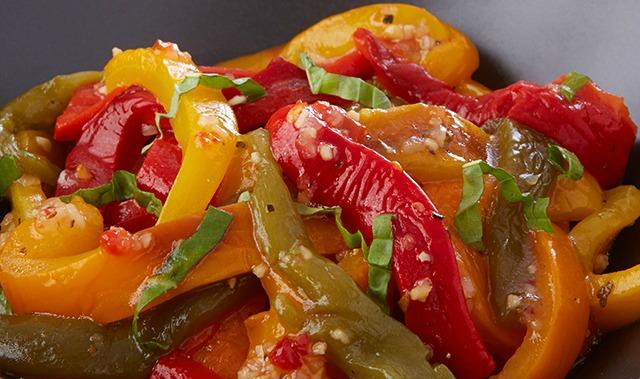 Peperonata al forno
(serves four people)
For something that's so easy to make, this is ridiculously good. This side dish can be eaten warm or cold, and can easily be prepared in advance and cooked at the last minute. Many people don't like the idea of anchovies, but here they almost completely melt with the heat and leave behind a wonderfully complex salty flavour.
Ingredients
peppers
1 kg red, green and yellow
olives
150 g black and green
anchovies preserved in extra virgin olive oil
5-10, depending on size
Instructions
Cut the peppers into largish strips and place in an oiled ovenproof dish. Mix in the olives and capers, sprinkle with the oregano, then arrange the anchovies on top. (The olives, capers and anchovies provide enough salt for the dish, but should you decide not to use the anchovies, you might have to add just a pinch of salt to compensate).
Drizzle with olive oil, then sprinkle breadcrumbs on top. Bake in an oven preheated to 200° C for about 40 minutes or until the top is golden brown and the peppers are tender. Sprinkle with chooped basil and serve as an antipasto on bruschetta or as a side dish.