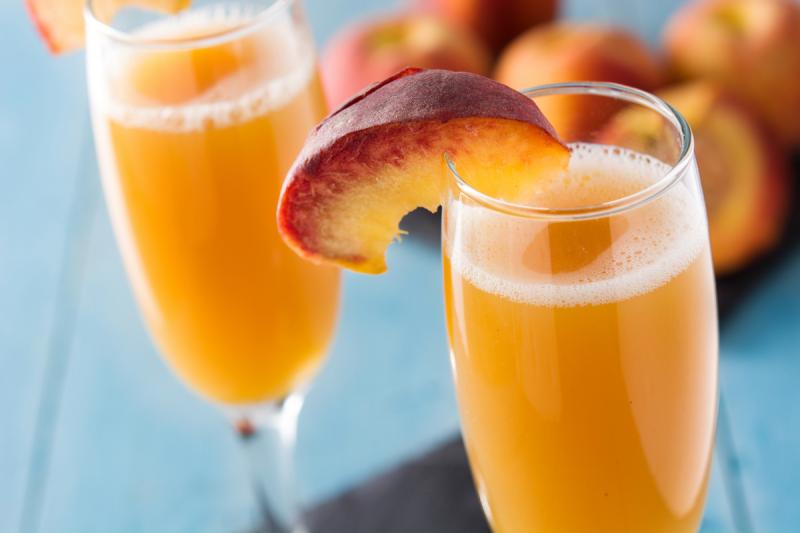 The Bellini is the creation of Giuseppe Cipriani, founder of the famous Harry's Bar in Venice, who mixed  puréed white peaches from Verona and Prosecco to create a special drink in 1948 dedicated to 15th-century Venetian artist Giovanni Bellini. It is said that the unique pink colour of the drink was inspired by the toga of a saint painted by the maestro. 
The drink started as a seasonal specialty at Harry's Bar (Venice), a favorite haunt of Ernest Hemingway, Sinclair Lewis and Orson Welles. Later, it also became popular at the bar's New York counterpart when an entrepreneurial Frenchman set up a business to ship fresh white peach pureé to both locations, becoming a year-round favorite.
The Bellini is an IBA (International Bartenders Association) Official Cocktail, which means it is one of the cocktails selected by the Association for use in the annual World Cocktail Competition in bartending and, therefore, it features among the most notable and frequently-made cocktail by professional bartenders around the world.
Instructions
To make a Bellini, all the ingredients and the flute must be really cold, as you are not supposed to add ice to this drink. So get the peaches, prosecco and glasses as cold as you can.
According to the original recipe, you should build it directly in a flute mashing the peach pulp directly into the glass and then slowly adding the prosecco, making sure it retains all the perlage.
Never use a food processor as it aerates the fruit and takes all those wonderful prosecco bubbles away.