Fresh Mint & Raspberry Spritz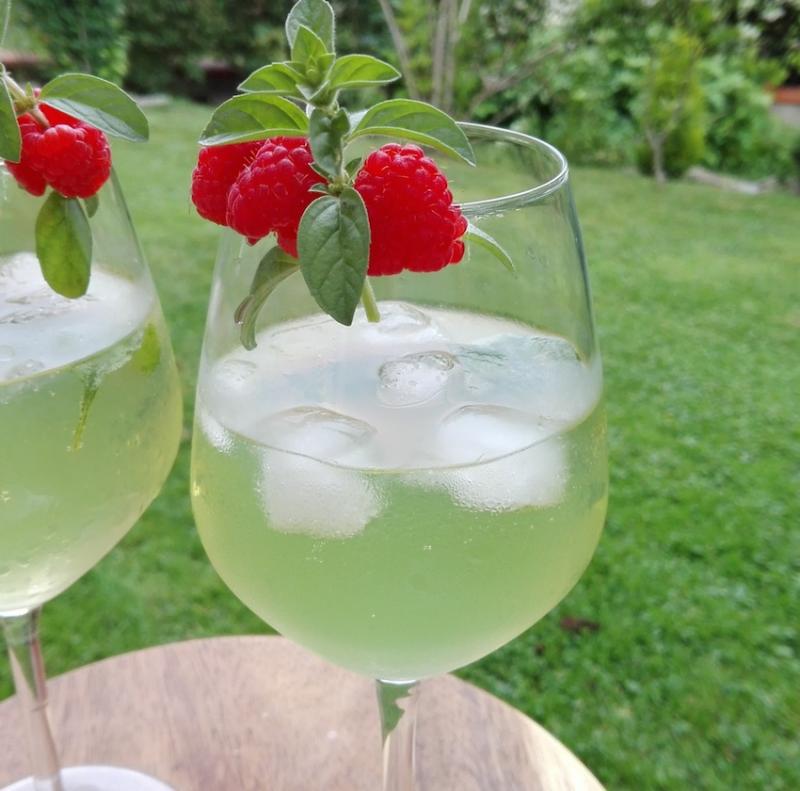 Cooking Time
15 minutes (plus 1-2 days for the homemade liqueur)
A refreshing and pretty twist on the classic spritz. Use peppermint, spearmint, or other variety of fresh mint to make the liqueur. For very sweet, syrupy results, use 2 full cups of sugar; otherwise 1 to 1 and ½ cups. Once made, the liqueur keeps indefinitely (meaning you can make these spritzes all summer long!). The recipe here makes a rather punchy brew, so note that you can reduce the amount of alcohol or use a lower-volume alcohol. An alcohol-free mint-flavored syrup, such as the kind used in making Italian sodas, would also work.
Ingredients
mint leaves
40-50 fresh leaves (1 large handful)
grain alcohol
1/3 cup (95% abv)
Instructions
Make the syrup in advance. Cover the mint leaves with the alcohol in a clear glass bowl, seal with cling wrap, and let soak 24-36 hours. Occasionally swirl the ingredients. The liquid will turn a lovely green color, while the mint leaves become crisp and desiccated. Strain well using a fine-mesh strainer and filter again if necessary through a thin layer of cotton. Press all the liquid through the filter.
Bring the water and desired amount of sugar just to a boil in a saucepan, stirring frequently, until the liquid is clear. Remove from the heat and let cool. Add the sugar water to the mint-infused alcohol and mix well. Transfer to a glass bottle.
Grind the ice cubes with a few mint leaves in the metal tumbler of a cocktail shaker. Add the mint liqueur, close and shake well. Add the Prosecco and stir. Pour into large wine glasses or glass tumblers. Top the glasses with the tonic water and garnish with the extra mint leaves. Decorate the rim of the glasses with the berries, or drop a few inside the glass (optional).