Olive, Rosemary and Parmigiano Reggiano Breadsticks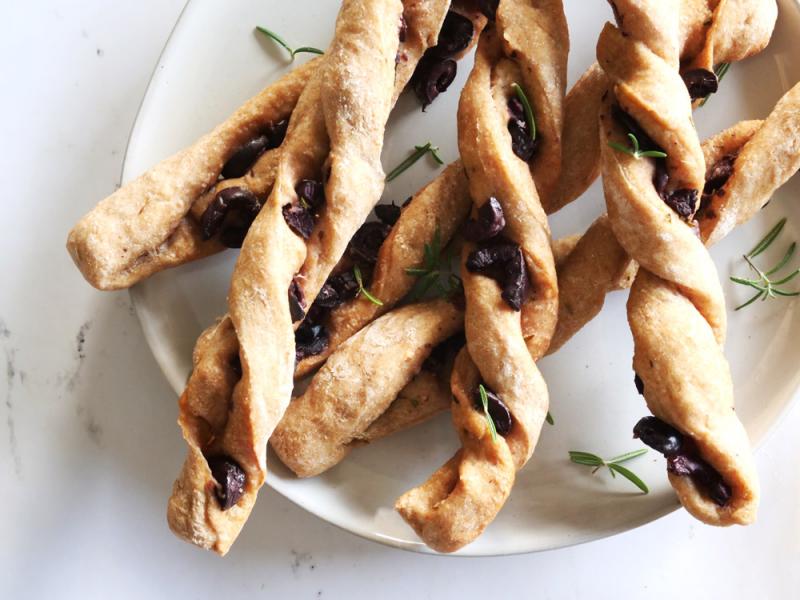 Cooking Time
15 minutes Total Time: 2 hours
Head to any restaurant, osteria, trattoria or pizzeria in Italy, and you'll be sure to find grissini (breadsticks) on the table laying in a basket or stuffed in a glass. These are usually the industrial kinds that come in little plastic bags filled with crisp breadsticks lightly sprinkled with coarse sea salt or their thin companions that are long and smooth. 
Walk into a forno (bakery) and your options are plentiful: crunchy classic versions composed only of water, flour, salt and oil; soft kinds that sink as you bite your teeth inside or flavorful varieties aromatized with herbs, spices, seeds, nuts or olives. That's the beauty of Italian breadsticks—they lend themselves to infinite variations, textures and tastes. 
By far, a homemade version is my favorite. This particular recipe creates soft breadsticks filled with savory olives, fragrant rosemary and aged Parmigiano Reggiano. And, although it takes a little more work, trust me—there is nothing more delightful than a house that smells of warm baked breadsticks and a kiss on the cheek from your loved one for your efforts in making this delicious Italian snack by hand. 
Makes:  24
Ingredients
dry yeast
2 1/4 teaspoons active dry yeast (1 packet)
extra virgin olive oil
1/2 tablespoon
olives
1 cup (taggiasca, kalamata, green etc), pitted and sliced
Parmigiano Reggiano
1 cup, grated
Instructions
For the dough:
Add the flour, yeast and salt to the bowl of a stand mixer equipped with a dough hook. Mix briefly until combined. Add the water and mix on low speed for 5-6 minutes until the dough is silky smooth. Remove the dough and add the extra virgin olive oil to the bowl. Now put the dough back in and cover the bowl with plastic wrap and then with a clean kitchen towel. Let rise for 1 hour.
For the breadsticks: 
Lightlyflour a clean work space and put the dough on top. With your hands, flatten the dough into a large rectangle about 3/4 inch thick. Sprinkle the olives, cheese and rosemary on top. Now fold the dough as you would a letter to stick into an envelope—fold one third of the dough into the center then fold the opposite side on top. Press  down with your hands to work the olive, cheese and rosemary into the dough. 
Line three baking sheets with parchment paper. Using a pastry scraper, cut the dough widthwise into 24 strips. Twist each strip and stretch them so they are the width of your baking sheet. Place them on the baking sheet leaving a finger's gap between them. Cover with a clean kitchen towel and let rise for 30 minutes.
Preheat the oven to 400°F. Bake for 12-17 minutes or until they are lightly golden brown. Buon appetito!