Carciofi alla Giudia - Jewish-Style Artichokes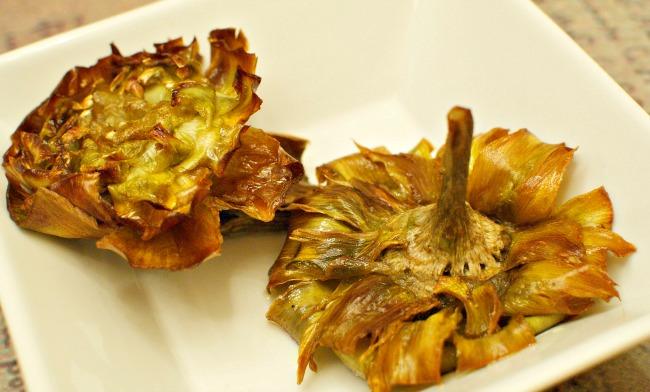 Carciofi alla giudia, literally "Jewish-style artichokes", is among the best-known dishes of Roman Jewish cuisine. The recipe is essentially a deep-fried artichoke, and originated in the Jewish community of Rome. Using a local kind of artichoke, the "mammola" romana, this recipe was prepared especially during the celebration of Yom Kippur. Artichokes featured on the break-the-fast menu and this is why the recipe is known as "carciofi alla giudia" (Jewish style artichokes).
Ingredients
extra virgin olive oil
1,5 lt
Instructions
Using a sharp paring knife, shave off the purple tough outer leaves of the artichokes with a spiral movement until you get to the tender pale green-yellow ones and create a bulbous shape. Cut off at least an inch of the thorny top. Finally, peel off the outer green fiber of the stem, then put the artichokes immediately in a bowl of water with lemon juice for 10 minutes to prevent browning.
Then dry them and beat two of them together or tap the flat top against the table to loosen the leaves. Season with salt and pepper, and deep-fry in olive oil.  
Heat the oil in a deep pan so that the artichokes will be fully immersed while cooking. The oil has to be hot, but not too hot (150 C° should be ideal) so that even the heart gets cooked while getting crunchy leaves.
Sprinkle them with water (or white wine) and dip them in oil, raising the temperature slightly but being careful not to burn them. Remove them from the oil, cool them upside down in a tray for about twenty minutes (so that they lose the excess oil) and serve with a sprinkle of salt.